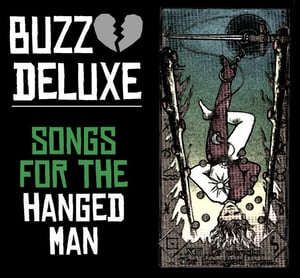 $

10.00
Our latest full length CD, 13 tracks. Check out this review:
"Songs For The Hanged Man" (Starving Skull Records)
CD review for Blue Suede News
David S. Faris
Sometimes less is more, and limitations can spark wild creativity. Buzz Deluxe have embraced this philosophy, and have taken a streamlined approach as a band, carving a unique identity for themselves, showcased on their newest album, Songs For The Hanged Man. The Toronto-area 2-piece is a lean, mean combo, with Jesse James Dale on lightning-sharp guitar and vocals, and Kerry Dale on a standup drumkit and vocals. The couple use their primal rock and roll instrumentation to conjure up a raw and raunchy sound without sacrificing melody in their songs. And while The White Stripes may have made a huge impact in the mainstream as a male/female, guitar/drums outfit, Buzz Deluxe are blazing their own trails, and have more in common with groups such as Flat Duo Jets, The Cramps, or Reverend Horton Heat. Their "100 proof death swing" draws influence from '50s rock 'n' roll and rockabilly, '80s psychobilly, and '90s grungey indie rock, with a jolt of garage punk aggression, and an overall modern sophistication.
Buzz Deluxe have a restless energy, and are not afraid to break away from familiar territory in their musical explorations. Songs For The Hanged Man certainly benefits from this approach, and offers up several different aspects of the group's sound. Recorded in their own home studio ("in our living room where we eat and watch tv" according to the liner notes!), and released on their Starving Skull Records label, Songs is a proud DIY venture which captures Buzz Deluxe in fine form. Kicking off with the scrappy guitars and pounding backbeat of the psycho/garage rocker "Zen", Songs includes loud, punky thrashers ("Us Against You", "My Bike"), fuzzy melodic rock ("Amy"), off-kilter countrified licks ("Get Hip"), acoustic songs ("Born to Move"), and the amusingly ridiculous "Chicken Dale".
The album's stylistic twists and turns can be a bit jarring, but Buzz Deluxe are taking the listener on a trip to somewhere dark and dangerous, and there's no turning back, you just have to hold on and enjoy the wild ride. A few noteworthy tracks include: "Get Hip", an uptempo song with Kerry Dale on lead vocals, which in a strange way hearkens back to Les Paul and Mary Ford's pioneering country pop; "Gold or White", a standout on the album delving into an unbalanced fascination and repulsion with tequila; and "13 Days", lyrically referencing William S. Burroughs. Buzz Deluxe make the most of their male/female vocal harmonies and guitar/drums interplay, creating a back and forth dynamic that defines their sound.
As the latest in a string of albums and EPs, Songs is an impressive collection, and if you can hunt down the Australian release on Valenteen Records, you'll be rewarded with 2 bonus tracks. Either way, get hip to the Buzz!